Sting 535 Pro is a boat where we have emphasized two important elements: large and practical floor space, along with good, smart living rooms. 535 Pro is an all-rounder made for practical use - wide and stable with plenty of space for fishing and fishing equipment. The boat is built for use in all kinds of weather, whether it is fine weather days or days with rougher conditions. The 535 Pro is popular both as a practical cabin boat or as a solid work boat. There is room for two petrol tanks in the spacious living room in the aft bench, which gives you extra safety at sea.

The bow section in Sting 535 Pro is characterized by a wide and spacious floor, with plenty of space for passengers, luggage or fishing equipment. The boat has mounting brackets as standard, adapted for tine haulers or other fishing equipment. In the bow you will also find a large living room under the bench where you can place equipment dry. You can also choose EVA cover for the bench in the bow, tofta at the steering console and on the stern bench, which gives your passengers a warmer place to sit, and gives you relief when working on the bow and on the stern.

The steering console on the Sting 535 Pro is wide and provides good protection from wind, at the same time as it is practical and clear to use. You can order your 535 Pro with navigation equipment and seawater flushing switch on the panel in the console (and which is easily connected to the stern deck). How to clean the floor on 1-2-3 after fishing, or trips where there is sand and the like. on board. The 535 Pro also has a bracket for attaching fishing equipment located amidships on the port side.

The stern deck of the boat is large and open, and here you have the opportunity to stack pots, place nets and other fishing gear, or luggage. The aft bench hides a separate battery compartment with operation through the hatch in front of the aft bench (here you will also find the main switch outside the hatch). In the main hatch in the center of the boat you will find access to a fuel tank. Completely aft you have a living room for ropes or drinks, where this is sheltered from wind, and you will find a bathing ladder on the port side with a ladder that is easily folded out both from the boat and directly from the sea.

Contact us for pricing and delivery terms.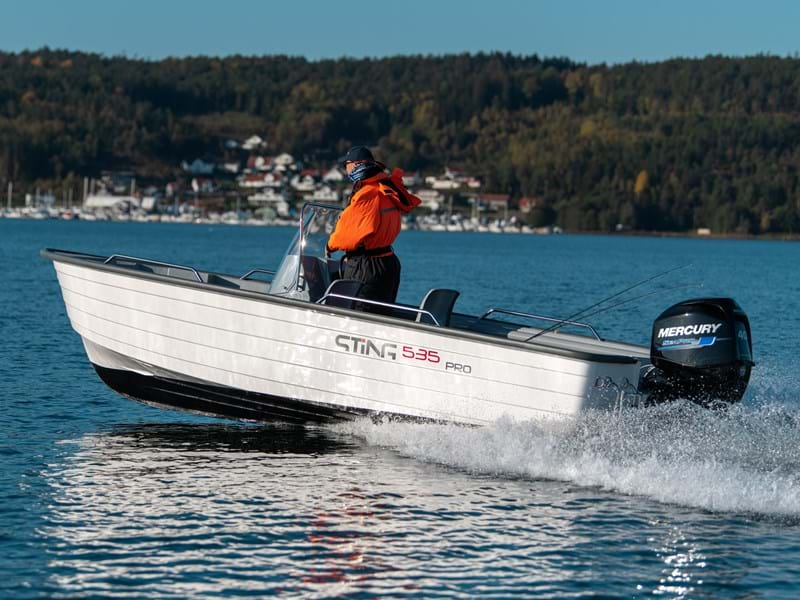 Aft storing space with lock
Bracket for crab/lobster trap hauler
Drivers console with windshield and metal frame