530S is a practical and solid walk-around boat, well suited for trips in the local and regional archipelago. The boat is characterized by the practical solutions, typical of a Sting, and gives you carefree days at sea. The hull takes the sea lightly while keeping you dry from sea spray.

Practical, functional stowing compartments both in the bow, under the cockpit console, beneath the drivers seat, and in the aft couch provides sufficient stowing space. At the same time, the deck space in the Sting 530S together with the range gives you a good platform for enjoying long days at sea.

The bow in the 530 S has a wide entry, with a smart bow hatch that is comfortable to step on. The bow hatch hides a storage space for mooring ropes. Two steps take you down to the boat flooring, which is wide spacious. The seating in the bow is comfortable with solid cushions. You can also order your Sting 530 S with a bow sunbed. High pulpits follows the hull side throughout the bow section and increase the height of the freeboard.

The console is located slightly towards the starboard side, and has plenty of deck space on the port side. In front of the console you will find storage space for 4 fenders. The console can be tilted up towards the direction of travel, and thus you get access to a larger stowing compartment to get luggage away from the open deck space. The 530 S can be equipped with navigation screens and you will find engine instrumentation and throttle / gears positioned for a comfortable driving experience.

The aft couch is designed to provide good back support but also to provide easy passage to the transom. The cushions on both sides are removable and allow you to pass easily. The boat is equipped with a swimming ladder that is easily folded out either from the boat or from the water.

Contact us for pricing and delivery terms.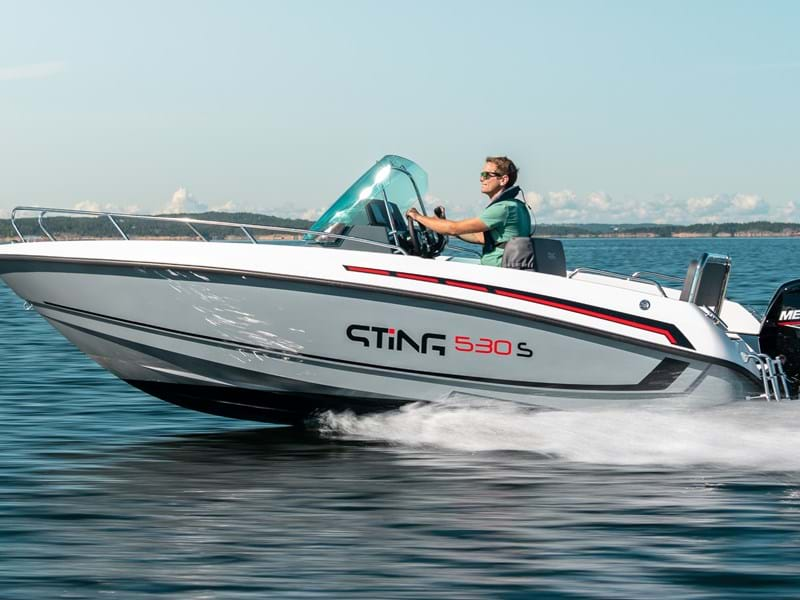 Drivers console with windshield and metal frame