Sting 610 S is our largest walk around and designed to give you and your family a boat for transport, recreation and summer fun. The 610 S focuses on range and safety, and is easy to drive. The boat's bow is made with the idea that children and adults can easily get on board, both with and without luggage. The console shields you from wind and weather, and a high freeboard and wide passage on the sides of the console gives you safe moving around on board. In the bow you have a sun bed, and in aft a favorite feature: two swimming platforms with a solid ladder. All this makes the Sting 610 S a perfect day trip boat.

Under the wide bow step you will find a storage space for ropes. The Sting 610S has high pulpits in the bow, which makes it easier to get on board. In front of the cockpit console, you will find a comfortable seat with a backrest where there is room for two people. If you choose to order the boat with a sunbed you quickly transform the bow section to a large, beautiful lounge.

In the Sting 610 S you have plenty of space for passage on both the starboard and port side.
The console has a high and wide windscreen that covers both driver and passenger, and you will get a good overview. Both the drivers seat and passenger seat can be turned 360 degrees, and thus take part in social activities on the aft deck. The seats can be adjusted vertically, which means that you get a higher driving position if you want an even better overview. The soft S-deck (can be ordered as an option) gives the cockpit a warm feeling, and is comfortable for walking barefoot. The console cover shields the console from the weather when the boat is not in use.

The cushions of the aft couch on the Sting 610 S provides good side support and are detachable, enabling easier access to the swimming platforms. The aft couch has plenty of space and a stowing compartment underneath for luggage.

The swimming platforms are a popular place to stay on the Sting 610 S. Beneath these platforms you will find stowing compartments for mooring ropes (starboard side) and anchor (port side). Sting 610 S is also equipped with a swimming ladder on the starboard side that can easily be folded out both from the boat and from the water.

Contact us for pricing and delivery terms.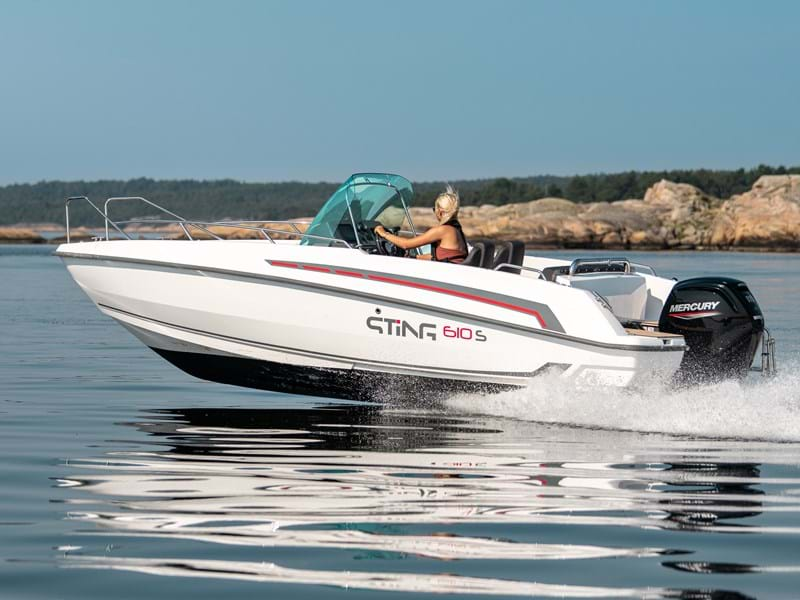 Drivers console with windshield and metal frame