Sting 580 S - a practical and family oriented centre console boat
Meet the new 580S, the flagship of the centre console lineup from Sting Boats. In the 580S, many of the well established and smart solutions from its smaller siblings 485S and 530S are present, in addition to improved space and maneuvering. A wide and stable hull combines a high quality driver experience with a highly comfortable ride. The 580S can be delivered with engines from 100hp to 115hp, either with Mercury Fourstroke technology or Mercury ProXS. These engines gives the 580S a soft and pleasant driving experience both in slow and high speeds.
Smart and practical solutions provides higher comfort at sea
Ergonomic driver seat
The drivers seating bench has a practical backrest which can be flipped forward and backwards. This enables a comfortable driving position which in matter of seconds can be changed to a practical social area at the stern deck. When seated backwards, you will also have a comfortable seating while being in full control of the kids swimming and utilizing the swimming platforms. The drivers seating bench also provides a storage space and can be delivered with a custom canopy which is mounted in a matter of seconds.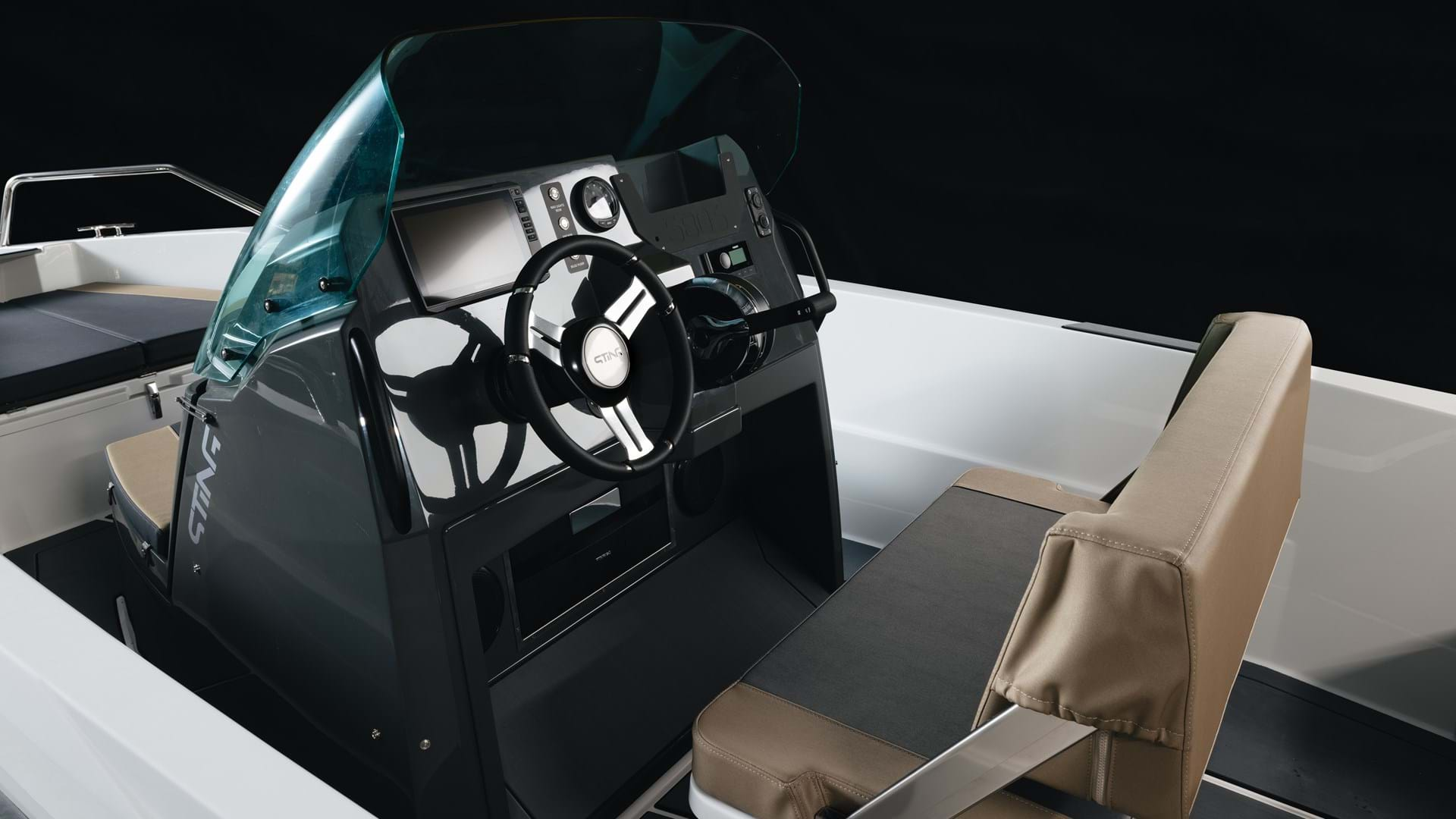 The bow sunbed; a perfect place to enjoy the warm summer days
The 580S has a large and enjoyable bow area, equipped with comfortable seating both while at speed and when anchored. The additional sunbed cushion increases the lounge space of the bow. The 580S  has smart and practical steps at the starboard side, making it easier to get in and out of the boat even with the sunbed fitted. The stairs also hides the fender garage, a small detail which makes it easier to keep the deck clean and tidy.
System.InvalidOperationException: Cannot access child value on Newtonsoft.Json.Linq.JValue.
   at Newtonsoft.Json.Linq.JToken.get_Item(Object key) in /_/Src/Newtonsoft.Json/Linq/JToken.cs:line 321
   at Newtonsoft.Json.Linq.JToken.Value[T](Object key) in /_/Src/Newtonsoft.Json/Linq/JToken.cs:line 333
   at ASP._Page_Views_Partials_grid_editors_ResponsiveMedia_cshtml.Execute() in C:\home\site\wwwroot\Views\Partials\grid\editors\ResponsiveMedia.cshtml:line 6
   at System.Web.WebPages.WebPageBase.ExecutePageHierarchy()
   at System.Web.Mvc.WebViewPage.ExecutePageHierarchy()
   at System.Web.WebPages.WebPageBase.ExecutePageHierarchy(WebPageContext pageContext, TextWriter writer, WebPageRenderingBase startPage)
   at Umbraco.Web.Mvc.ProfilingView.Render(ViewContext viewContext, TextWriter writer) in D:\a\1\s\src\Umbraco.Web\Mvc\ProfilingView.cs:line 25
   at System.Web.Mvc.Html.PartialExtensions.Partial(HtmlHelper htmlHelper, String partialViewName, Object model, ViewDataDictionary viewData)
   at ASP._Page_Views_Partials_grid_editors_Base_cshtml.Execute() in C:\home\site\wwwroot\Views\Partials\grid\editors\Base.cshtml:line 20
I would like an offer for the Sting 580S